You're not the only one who has trouble with anxiety or depression. The National Alliance on Mental Illness (NAMI) says that an anxiety disorder affects 40 million American adults. In 2020, at least one major depressive episode happened to about 21 million adults in the U.S.
Sometimes, the hardest part is deciding to get help, especially if you've never done it before. There are now sites like Brightside Health that help with anxiety and depression through therapy, medicine, or both.
But is Brightside the right service for your mental health needs? Find out about subscriptions, services, prices, privacy, and more by reading our full review.
What is Brightside Health?
Brightside Health, or just Brightside, is an online therapy and medication management program for adults (18 and up) who are depressed or anxious.
It puts a lot of emphasis on Cognitive Behavioral Therapy (CBT), which research has shown can help people with depression and anxiety.
Brightside also helps people with other anxiety and depression-related mental health problems, such as generalized anxiety disorder and depression after giving birth.
It made our list of the best online therapy platforms because it has its own technology for prescribing medicine to help manage mental health conditions.
In our review, we'll tell you everything you need to know about Brightside, including the insurance plans, medications, and what to expect with each plan.
Brightside Health Review
Brightside Health Review -
$95 - $349
Third-Party Reviews

Quality

Insurance

Pricing, out-of-opcket

Design
Comments Rating
( reviews)
Summary
If you're worried or depressed and need symptom-specific medicine, Brightside may be a useful online therapy option. If you have a plan with one of Brightside's insurance partners, you may save money with Brightside.
Pros
Accepts insurance
Ability to use FSA/HSA accounts
Self-care videos included in all subscriptions
Data-driven technology helps providers prescribe effective medications
Available in every state
Less expensive than Talkspace psychiatry
Unlimited messaging with a psychiatrist available for all plans
Various packages tailored to treat depression and anxiety
Check-in quizzes to help monitor progress
Free self care lessons offered
Safe medication policies in place
App available for iOS devices
$50 off the Therapy & Medication plan during first month
Cons
Option to switch therapists is slow
Offers video therapy only; no audio-only or live chat sessions
No app available for Android devices
May lack the more personal touch of in-person care
Not suitable for everyone
No way to pick your own therapist or browse bios
No same day appointments
Responses from customer service can take over 24 hrs
Minimalist portal can make it difficult to access certain features of the site
More affordable with health insurance but only Aetna and Cigna, few others only accepted
Focuses on anxiety and depression – if you have another condition, look elsewhere
Customer service takes several days to respond emails
Only available to individuals over 18
Why Trust Our Online Mental Health Reviews
You want the best advice and help when you choose an online counseling service.
Our staff writes honest reviews of services to help you decide which one to use.
Our reviews of online therapy are honest because:
Online mental health care is what we do best.
We check out the services.
These reviews are written and edited by licensed professionals in mental health.
Views from the outside
Keeping an eye on research on mental health and internet therapy
Customer service emails are answered quickly and fully.
Taking more than 1,000 hours to look over Mental Health Services
Videotaping our journey
Openness about affiliations and biases
Comments give users a voice.
We hope that our reviews will make it easy for you to find the right mental health provider quickly.
How Brightside Works
Brightside Health's online evaluation asks about your symptoms, family history, mental health therapy, and physical health before starting.
Next, Brightside Health automatically matches you with physicians based on area and schedule. Providers are licensed and trained in depression and anxiety.
Then, Brightside connects you to a state-licensed doctor for prescription management. They can give antidepressants and anxiety meds, but not controlled drugs. Brightside ships medications for $15 each.
If your plan includes therapy, you can see your therapist weekly and buy additional sessions for $59 each. CBT and DBT are used by all Brightside Health practitioners. These anxiety and depression remedies are well-researched.
Lastly, all Brightside Health monthly subscription options include their self-care program. Login to their website to access this program.
Brightside Key Points Table
Yes but only a few insurance providers are accepted

Individual therapy based on Cognitive Behavioral Therapy

Provides Education and Tools

Track your results
Treat anxiety and depression
Great intake questionnaires
Simple effective design
Why Brightside Founded
Brightside, founded in 2017 by Brad Kittredge, Mimi Winsberg, MD, and Jeremy Barth, provides online psychiatry and talk therapy to guarantee everyone has access to mental health care.
After learning that his father, like so many others, struggled to get depression treatment, Kittredge started the company to provide the kind of care he hoped his father had been able to receive.
Third-Party Reviews
Brightside Reddit Reviews
Brightside App Reviews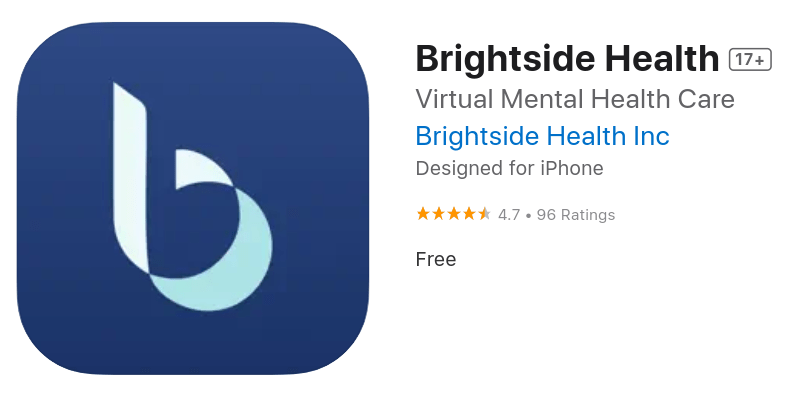 Overall, with few negative Reddit reviews and tons of positive reviews on various sources, Brightside is favorably perceived by third-party reviews. However, there are some negative reviews on Trustpilot.
Third party reviews = 4.5/5
What mental health does Brightside help with?
Brightside Health is a virtual therapy platform that helps people with anxiety and depression get the care that is based on scientific evidence.
It has a team of therapists trained in cognitive behavioral therapy (CBT) and virtual lesson plans that focus on mental health.
It is proud of going above and beyond our culture's current practice of impersonal treatments that don't use evidence-based approaches and don't measure clinical outcomes.
What types of therapy does Brightside provide?
Brightside focuses primarily on depression, but also monitors and treats users for anxiety, and offers a three-pronged approach:
Medication
Talk therapy
Self-care
All three plans feature 12 self-care modules that customers can study online alongside their therapy sessions.
Each self-care session includes a lecture and questions based on cognitive behavioral therapy (CBT), which helps people identify and change negative patterns and behaviors that affect their mental and emotional health. These workshops help you change negative thoughts that cause melancholy and anxiety.
Licensed therapists with years of expertise lead all talk therapy sessions.
How do I register for therapy at Brightside?
Brightside begins with a free online quiz. It asks about your anxiety and depression symptoms and how they affect your life in less than a minute. The questionnaire and results require your name, ZIP code, and email.
Brightside will give you an anxiety and sadness score based on your answers.
After seeing your anxiety and depression levels, you can start medication, counseling, or both.
After selecting your plan and clicking "Start Treatment," Brightside will inquire about your medical history, including whether you've experienced seizures, schizophrenia, psychosis, or attempted suicide.
Your payment information and appointment will be requested if Brightside can treat you based on your medical history.
Brightside will ask you to undertake the initial assessment questionnaire every two weeks. Your anxiety and depression symptoms may improve, worsen, or stay the same over time. Your Brightside portal chart stores your results. This chart will also help your doctor evaluate your treatment plan.
Choosing a therapist at Brightside
Brightside Health will match you with a provider and schedule an appointment if you are a suitable fit. Brightside Health automatically matches you with physicians based on your area and schedule. Providers are licensed and trained in depression and anxiety.
How to tell if Brightside therapists are real?
Unfortunately, you will not be able to look at a variety of bios and qualifications before choosing one.
Only after you choose a time for your appointment and match with a therapist, are you able to read a short bio about them.
Therapist Switching Process
You can transfer therapists at any time, but it's complicated.
While looking for a straightforward way to switch therapists, the user portal seemed scant. You need to write a message to Brightside, which establishes a ticket, and they promise to respond within 24 hours.
Again, Brightside will choose your next therapist.
How fast do Brightside therapists respond
On weekdays, most Brightside providers will answer your message within 72 hours. Providers don't check their email all the time or on the weekends. If you are having a mental health emergency, please call or text 988 right away for help. You can always send a message to your Brightside therapist.
How long are Brightside therapy sessions?
The therapy sessions are only 30 minutes long, which is on the shorter side but the quality of care offered by the therapists, along with the added structure of the self-care lessons, makes up for some of it.
However, this is one reason we recommend in-person if possible over online. Because in-person sessions are around 50 minutes generally and those extra 20 minutes are very nice to explore topics more deeply.
Medication management is also available, but you must first complete a video consultation with your psychiatric provider before a medication treatment plan can be established.
The length of this session isn't noted online, but follow-up appointments are 15 minutes each, and you can ask your provider to turn their camera off if you feel uncomfortable being face-to-face during these appointments.
Overall, the therapist quality at Brightside is one of the best we've seen. They specifically focus on evidence based treatments for anxiety and depression, and their intake questionnaires are the best we've seen.
Quality = 5/5
Is Brightside covered by insurance?
Yes, Aetna, Cigna, UnitedHealthcare, and Anthem all work with Brightside. This means that, depending on your insurance plan, the price you pay each month to use this service could be even lower.
If your plan covers Brightside care, you'll have to pay copays, coinsurance, deductibles, and costs for prescriptions. You should call your health insurance company to make sure that your care will be paid for.
We really like that Brightside's prices are fair and that they take insurance. However, insurance is somewhat limited overall and falls short in comparison to other services like Talkspace.
Insurance = 3 / 5
Does Brightside accept HSA or FSA?
Brightside also takes payments from flexible spending accounts (FSAs) and health savings accounts (HSAs) (FSAs).
Can Brightside prescribe medication?
The Brightside medication plan begins with an intake assessment that collects more than 100 data points, including your family medical history, stressors, the main symptom you want to focus on, support systems, and whether you've been diagnosed with mental health conditions or taken medication before. This information will help your doctor choose the right drugs. Your patient portal will then schedule an appointment.
Prescriptions are not guaranteed. Brightside prescribes only safe, effective, and suitable medications.
It suggests therapy before or alongside medication. If your doctor doesn't prescribe medication, you may get a refund.
Brightside assesses each case.
Brightside's patient medication selection method has proven promise though too. A January 2022 Cureus study indicated that Brightside patients had 50% greater response and remission rates than those receiving standard depression treatment from a large Midwestern health institution.
However, you should know Brightside funded the study and its employees coauthored the report.
Does Brightside prescribe medications for ADHD?
Brightside providers do not treat or prescribe medication for attention deficit hyperactivity disorder (ADHD), and they do not prescribe any mental health medications that are considered controlled substances, including Adderall, Ritalin, Xanax, Valium, Ativan, Ambien, and Tramadol, as well as generic versions of most medications.
Brightside Customer Service and Telephone Number
Email Brightside at support@brightside.com or call (415) 360 – 3348.
User Interface
Brightside is like Starbucks – they only serve one thing, but they do it very well. The company wants to help people who are struggling with depression and anxiety, so it's good for Brightside that they don't help with other mental health issues.
Its prescription policy is conservative but appropriate, and its therapy sessions are short but effective. I felt like its system was a well-designed, well-oiled machine. Everything went smoothly overall, especially because Brightside doesn't offer patients a multitude of choices.
Its platform is made with professional knowledge and careful attention to detail so that each user can get the same high-quality care. Brightside is a great place for people who want to find out more about online care for depression and anxiety.
However, Brightside does not offer an app and lacks the ability to choose your own provider. Yet perhaps fewer options are better so we don't ding Brightside too much here.
Overall, Brightside's rules about treatment and medication set a standard for online care that is responsible and professional.
Design = 4 / 5
How Much Does Brightside Cost
Brightside offers three different plans for membership. All plans come with educational and self-tracking tools:
Plan for Drugs Only ($95)
With the medication-only plan, a psychiatric provider can do a full evaluation of you from a distance.
Your prescribed medicine will be sent right to your door, and your provider will keep an eye on you and help you out as needed.
The plan costs $95 a month, plus your co-pay at the pharmacy if your insurance covers prescriptions.
If you don't have health insurance, each prescription will cost you $15.
Plan for Only Therapy ($299)
You can see a licensed therapist through the therapy-only plan.
You'll be able to send as many messages as you want and have four 30 min video chats every month.
Your therapist will work with you to make a program that fits your needs and helps you take care of your mental health.
You can pay $59 each for more video appointments with your therapist.
Medicine + Treatment ($349)
The plan that includes both medication and therapy is called the "medication and therapy" plan.
It costs $349 a month, plus a co-payment at the pharmacy. If you don't have health insurance, each prescription will cost you $15.
Brightside takes insurance, so check with your insurance company to see if you're covered. At the end of the free assessment, you can find out if your insurance is accepted by Brightside.
While insurance is somewhat limited, if you pay out of pocket, Brightside pricing plans are competitive, especially if you combine the therapy and meds.
Pricing (out of pocket) = 4 / 5
| | | | |
| --- | --- | --- | --- |
| | | | |
| | | | |
| | | | |
| | | | |
| FDA-approved medicine match with PrecisionRX | | | |
| | | | |
| | | | |
Any Signup Discount or Free Trial?
The Therapy Plan from Brightside costs $299 a month ($249 for the first month). It gives you four 30-minute video sessions and unlimited messaging with a licensed therapist.
Refunds, Pausing, and Cancellations
The FAQ section thoroughly explains Brightside's treatment alternatives. The membership terms, including cancellation and refund policies, are clear, humane, and reassuring. If you wish to leave the program, talk to your therapist about why and make a plan. The platform assures users that their therapist won't be insulted!
In some cases, Brightside Health will give money back for medication subscription plans. But they won't give you your money back after you've seen a psychiatric provider.
Therapy subscription plans are not refundable, but if you buy extra therapy sessions and don't use them, you may be able to get your money back. Log in to your account, click "Help," and then contact the support team to ask about a refund. You can also send them an email at help@brightside.com.
Brightside Promo Code
Brightside does not have a promo code however, an automatic $50 discount is applied on your first month for their medication or therapy plans, and $100 off your first month for medication and therapy.
Brightside Privacy Policy
In the privacy notice, users' data will be made anonymous but shared with researchers. Research collaborators can access protected health information for confidential data analysis. Brightside reassures tries to reassure users by saying researchers are held to a standard of confidentiality as well.
Yet data cannot be withheld from researchers. While this may be harmless, the inability to opt out of data sharing is troubling. As a mental health practitioner, I didn't think my data would be used for research. Thus, the intake procedure should clearly state this practice. User data should also be opt-out.
Brightside Legal and Financial Info
Since then, the company has risen in online therapy. Its series B fundraising round raised nearly $50 million, up from $24 million in its series A round in 2021, demonstrating investor confidence in the business.
Is Brightside Legit
The combination of therapy and psychiatry is what makes Brightside stand out from other online mental health sites. Like Betterhelp, many mental health companies only offer therapy services. You'd have to find medicine somewhere else. Even companies like Talkspace that offer both therapy and psychiatry don't sell them together. To use both, you'd have to sign up for two separate services or pay two separate bills.
Brightside is valuable because it has the Medication & Therapy Plan for people who need both but don't want to get them from different companies or pay for them separately.
Who Should Use Brightside or Not
Brightside is made for people who have problems with anxiety and depression. It's great for people who want structured, solution-focused support and don't mind doing therapy-related homework on their own time.
People who want to take medicine but have trouble getting in touch with their psychiatrist will probably love this service because it lets them send and receive unlimited messages and keep track of their symptoms.
Brightside may be a suitable choice if you need internet counseling to treat multiple depression or anxiety symptoms.

Major Depressive Disorder

Obsessive-Compulsive Disorder (OCD)

Post-traumatic Stress Disorder (PSD)

Seasonal Affective Disorder (SAD)

Brightside isn't for everyone because it's an online depression and anxiety counseling service, and cannot help under these situations:


Psychiatric involuntary hospitalization

High-risk eating disorder

Renal, liver, seizure, or extended QT
Brightside Health Review: The Verdict
Brightside could be a good choice for online therapy if you're feeling anxious or depressed, especially if you're looking for medication that fits your symptoms. Brightside may also be worth looking into if you have a plan with one of its insurance partners, which could lower your overall cost.
Should you go to Brightside? Yes. I would recommend it to people who want short-term therapy to help them deal with hard feelings or problems in their lives.
I'd recommend traditional, in-person therapy for people who need more intensive help, maybe because they've been through serious trauma or have psychiatric problems that have been around for a long time.
If You're In An Emergency
If you are in a crisis, it may not be safe to wait for an online therapy appointment. If you need help right away, call 911. Plans to hurt yourself or others are part of this. You can call the 988 Suicide and Crisis Lifeline by dialing 988 if you are thinking about hurting yourself. Help is available 24/7.
You can also call 800-662-HELP, which is the number for the National Helpline of the Substance Abuse and Mental Health Services Administration (SAMHSA) (4357). The SAMHSA line is a free, confidential service that helps people with mental or substance abuse disorders find treatment and get information about it 24/7, 365 days a year.