Calmerry provides trustworthy and cost-effective online mental health counseling from licensed counselors.
Even if the majority of customer ratings are positive, having the option to choose your own counselor would improve the user experience.
Calmerry gives you the quick outlet you need to talk through an issue or vent your emotions with only a few keystrokes.
However, if you're looking to explore deeply or if you have a serious mental health issue, Calmerry might not be the ideal option for you.
Calmerry Review -
$228 - $360 Per Month (Without Insurance)
Third Party Reviews

Quality

Cost

Design
Summary
Calmerry is best if you do not have insurance, or if your insurance does not cover online therapy, because Calmerry is one of the most affordable out-of-pocket online therapy providers.
Apply code CARE to start therapy with 30% off.
Pros
Text-based therapy and live video therapy sessions available
Available to individuals 18+ throughout the US
Choose from three monthly subscription plans
Fast therapist matching and appointment scheduling
App and website are user-friendly
All plans include a mood tracking tool and an online journal for reflection
Ability to choose your therapist from a preselected list of options
Option to switch therapists at any time for free
Ability to attend a session from anywhere in all 50 states
Multiple subscription plans available
Sessions can be hosted morning, noon, or night
Concierge customer service to guide you through the process
Access to an online diary
Available via video or online chat
Discounted first month available
Therapists treat several mental health disorders
600+ licensed providers
Free therapy switch
24/7 online counseling from $50 per month
Cons
No insurance
Cannot choose therapist
After subscribing, read therapist profiles and receive two daily emails from your therapist
Therapist responses differ
30-minute sessions Platform fails
Insurance receipts take days to arrive via patient portal
Counselors occasionally miss emails
Uncertain site information may mislead
No phone/chat therapy
Kid-free treatment
Therapist choices are hidden until plan purchase
How Calmerry Works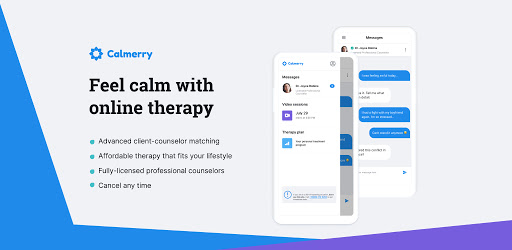 Calmerry is an online therapy platform that lets people over 18 connect with therapists through text-based therapy or live video sessions.
Customers fill out a detailed questionnaire about their counseling wants and needs.
You are then matched with a concierge, who will match you with a therapist who they think will be a good fit. Calmerry has three levels of monthly subscriptions that range in price from $228 to $360.
However, one of the most common complaints is the user-interface. From our experience, the user interface is choppy (see more info below).
Reviews
SiteJabber
On SiteJabber, Calmerry has a consumer rating of 4.65 stars from 121 reviews.
Trustpilot
Finally, 61% of Calmerry users in this project said their therapist addressed all or most of their needs. Eighty-four percent said Calmerry therapists had good to excellent credentials.
However, despite Calmerry users' great experiences, only 41% felt they would still see their therapist 12 months from now.
Calmerry Reddit Reviews
This is the only review we could find that directly spoke about Calmerry. It's pretty positive!
Please note there are many other reviews about online therapy which are not so positive and warn against online therapy:
Calmerry App Reviews
What Mental Health Does Calmerry help?
Calmerry helps people find their calm by giving therapy for a wide range of problems. Among these problems are:
depression
anxiety
self-esteem
relationships\strauma
LGBTQ+ issues
anger management
Problems with eating
Sexual problems
grief
What type of therapy does Calmerry provide?
Calmerry says that therapists are trained in things like cognitive behavioral therapy, dialectical behavioral therapy, mindfulness, gestalt therapy, mindfulness-based stress reduction, and narrative therapy.
Still, people are helped to deal with their feelings and emotions in creative ways, such as art therapy or mindfulness meditation (as well as traditional approaches such as cognitive behavioral therapy).
Also, clients can choose to work with a therapist who best fits their needs.
There are gender-inclusive, queer-affirming therapists who focus on LGBT+ issues, as well as therapists who help people deal with relationship problems or adjust to big changes in their lives.
Each therapist on Calmerry has to change how they do therapy so that it can be done online. This may lead to big differences in how well the therapy is done.
Calmerry doesn't offer couples, family, or group therapy, telepsychiatry, or help for kids and teens at this time.
Best Features of Calmerry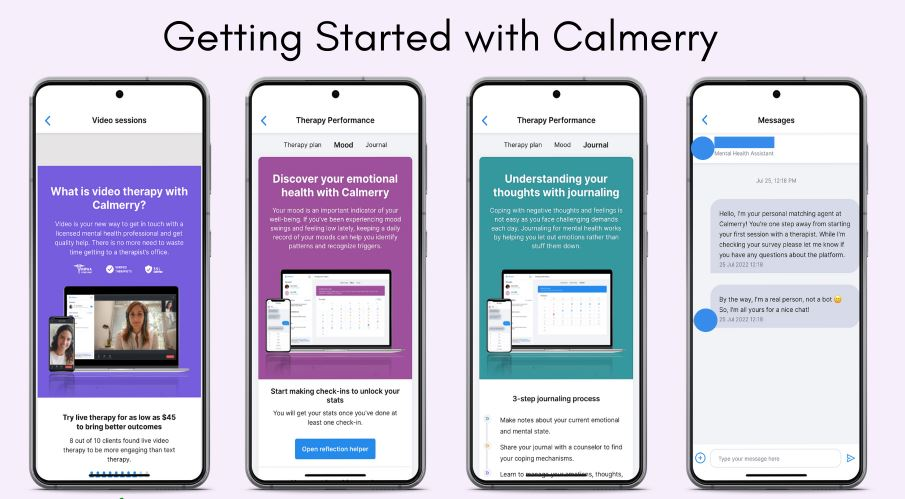 Self-Care With Coa
Calmerry memberships come with a chatbot tool called Coa that helps you track your mood and think about how your day went.
Your entries are saved in your online journal, and you can choose whether or not to tell your therapist about each one.
Calmerry users can use this tool to help them figure out what they're feeling and deal with it.
It can also help them find patterns that show how their feelings affect their daily lives.
Goal Tracker
Calmerry gives you access to a personal treatment plan with both short-term and long-term goals, as well as texting and online sessions.
This lets the user and their therapist keep track of their progress over time. This can help guide how treatment is done.
When you log in to your account, they also have a long section called "Helpful Tips" that tells you how to get the most out of online therapy.
How Do I Register for Therapy at Calmerry?
Create an account on the Calmerry website to attend your first therapy session. For easy account access, download the Calmerry app from Google Play or Apple App Store after signing up on the website.
Create a Calmerry account: Sign up for Calmerry treatment on your computer or mobile device. "Mental health assistants" will help you register. An introduction questionnaire will assist discover a suitable therapist.
First survey questions: Questions cover your physical health, how you've felt about therapy in the past, your current issues, what kind of therapy you'd like to attempt, and what you intend to gain from this.
Subscribe to one of the three plans.
Automatic therapist matching: The mental health assistant announces your therapists. Calmerry and Google/LinkedIn searches will reveal more about them.
Message your therapist: After being matched with a therapist, use Calmerry's secure messaging platform to introduce yourself. You can introduce yourself and discuss treatment topics in this text. You text your therapist when needed.
Live video appointment: Sign into your safe video therapy space 15 minutes before your appointment. Your counselor logs in and your video counseling session begins. 30 minutes is up.
App-based live sessions: If you request an extra 30 minutes, your counselor will schedule another session and you'll both check in.
Therapists at Calmerry
Each therapist at Calmerry must have a full license and 2,500 hours of clinical experience. Before they join the platform, the therapists are checked out and verified.
They are all licensed by their state's professional board based on how well they did on an exam, how much they practiced, and how much they paid for their license.
Calmery therapists are experienced clinical psychologists, marriage and family therapists (LMFT), clinical social workers (LCSW/LMSW), or licensed professional counselors (LPC). All of the therapists at Calmerry are said to have a master's degree or a doctorate in their field.
Not surprisingly, there are also many different kinds of experts and ways of doing therapy.
How therapist matching works
Calmerry puts you in touch with a counselor based on how you answered the first questions. When you sign up, a mental health assistant is given to you. This person looks at your survey answers and chooses a counselor who would be a good fit for you.
Even though there is a mental health assistant who helps you find a therapist, the client has no say in this process. Our scoring guide had a category called "Matching or Choosing a Therapist." This process got one star in that category.
The conversation with the customer service concierge is a nice personal touch, but it did seem to go on a bit too long.
Most of what was said was small talk and pleasantries. Nothing too deep or personal was said.
How to tell if Calmerry therapists are real?
Calmerry therapists are real and qualified professionals certified by their state's professional board based on each state's exam, practice, and licensing qualifications.
All of the therapists have a master's or doctoral degree in their field and they have gone through background checks to verify their credentials. You can find out more about each therapist by looking at their profile on Calmerry or searching for them online on Google or LinkedIn.
Additionally, you can also ask questions directly to your therapist via the secure messaging platform provided by Calmerry.
This will help provide further assurance that your therapist is authentic and qualified to provide quality mental health care services.
Therapist switching process
If your therapist is unsuitable, Calmerry lets you switch. If you want to switch, chat with customer care in their live chatroom on their website and app or email them directly.
How fast do therapists respond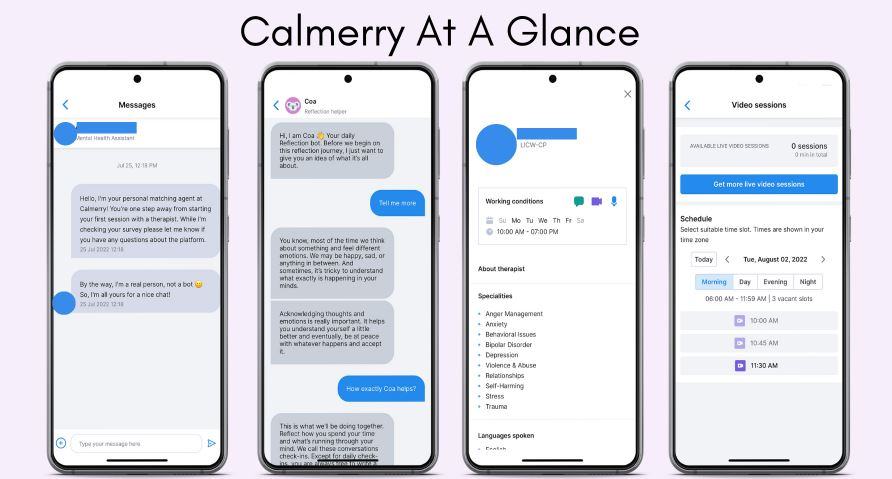 Based on a survey of 1,000 people who used online therapy in April 2022, 45 percent of 25 Calmerry users got responses within a day.
20 percent of the rest got responses within a few days, another twenty percent got responses within a week, and 15 percent usually had to wait longer than a week.
Is Calmerry covered by insurance?
No, at this time Calmerry does not accept insurance.
Can I use my FSA or HSA Funds?
Calmerry does not provide financial aid, and no insurance plans consider it to be a provider in their network. You might be able to use money from your health savings account (HSA) to pay for therapy if your insurance plan covers out-of-network mental health care.
Calmerry Prescribe Medication?
Calmerry doesn't have psychiatric services, so it can't diagnose mental health problems or give people medicine for them.
Calmerry Customer Support
Call (844) 958-3158, send an email to team@calmerry.com, or go to the website and click the chat icon in the bottom right corner of the page.
User Interface
While there are plenty of buttons to select to "Get Started" and begin the registration process, and a good amount of verbiage broadly describing what online therapy is, there are few details on what precisely a user is registering for.
Details surrounding subscription levels, benefits, and the costs of treatment are not available on the website.
Navigating the site is fairly easy, but the information available—once you find it—is sometimes questionable.
False Reviews, Questionable Claims, and Common Complaints
False Reviews:
Many online reviews state that Calmerry does not offer couples therapy.
Yet from our research, we see that Calmerry states "Our online relationship counseling services are suitable for married couples as well as for couples in an unofficial relationship. No matter your status, you can feel free to seek professional guidance and support to make your partnership work for your significant other and you."
Other reviews are out-dated. They say Calmerry starts at $42 per week but we recently sign-up and it's $49.50.
Questionable Info:
There is some confusion about the qualifications that Calmerry's therapists need to have.
According to its FAQs, therapists at Calmerry have LMFT, LCSW/LMSW, or LPC credentials.
On the site's "Online Therapy" page, though, there are references to other credentials.
The fact that these qualifications are mentioned, even though they don't apply to current Calmerry therapists, could be a bit confusing for both potential and current clients.
Common Complaints
The most common complaint about Calmerry is the poor reviews of their app.
How Much Does Calmerry Cost
Calmerry plans range from $228 to $360 per month. Live video session plans allow you to buy more sessions. One additional session costs $45; two or three cost $42; four or more cost $40.
Credit or debit cards can pay for your subscription.
Calmerry does not provide financial aid or participate in insurance networks.
If you have an HSA and out-of-network mental health insurance, you may be eligible to spend HSA funds for therapy. Verify with your insurer.
Unlimited Messaging $228/month
Supports audio, video, and text messaging
Change counselors anytime
Mood tracking and reflection tool
Unlimited Messaging Plus One Video Session $298/month
Includes one 30-minute live video session per month
Supports audio, video, and text messaging
Change counselors anytime
Mood tracking and reflection tool
Unlimited Messaging Plus Four Video Sessions $360/mo
Four monthly 30-minute live video sessions
Supports audio, video, and text messaging
Change counselors whenever
Mood tracking and reflection tool
Any Signup Discount or Free Trial?
No Calmerry trials. If you're not sure you're ready to commit to treatment for a month, you may purchase a special weekly package for as low as $64.99 and experience all Messaging and Live Video Therapy features.
Calmerry discounts messaging-only memberships by $30 and live video sessions by $65.
Refunds, Pausing, and Cancellations
According to the site's Frequently Asked Questions, patients can get in touch with customer service at any time to cancel their Calmerry subscription. It's important to know that the language about cancellations is tucked away in the section about prices and packages. Also, there are no results when you look for "cancellation" or "how to cancel my subscription" in the site's help section.
Calmerry Privacy Policy
Calmerry claims to be a fully HIPAA compliant place. They say all your personal information and your therapy session data are encrypted on the servers.
However, reading the Calmerry privacy statement does not give off a positive vibe. Although Calmerry "take[s] secrecy and privacy seriously," according to the company's website, there is little to no evidence to support this claim.
Calmerry Legal and Financial Info
Calmerry, created in 2020, offers affordable, safe online therapy. According to founding CEO Alex Vitchenko, counseling should be more affordable and accessible.
Calmerry was created to connect licensed professionals with customers in a safe online environment.
The startup received $5 million in 2021 to add doctors and mental health resources.
Calmerry launched B2B in 2022 to help businesses provide inexpensive mental health treatment to employees.
The B2B initiative lets firms create and track employee mental health programs.
Calmerry has served over 47,000 clients with over 600 professional therapists. In the future, the organization will grow and offer mental health services.
Is Calmerry Legit
Calmerry is a real company that offers online therapy. Most of the site is in line with HIPAA. Calmerry also carefully vets its therapists to make sure that each one has a license that is still valid.
Who Should Use Calmerry or Not
If you need to pay out of pocket Calmerry is a more affordable online therapy option, and if you have mild to moderate mental health stuggles.

Anyone who is mild or moderately depressed or anxious

Need to put up your own money and want affordability

Prefer therapy through texts

If you have a serious mental conditions, need medication, or at risk to yourself or others.

Not sure about technology

You are under 18 years old

You need a doctor to write you a prescription or take care of your medications

You need a mental health condition to be diagnosed

You have been told you have a serious mental illness

The court has to make you go to counseling

Your condition needs to be treated in person, with intensive mental health care, or by a doctor who comes to you

You've had suicidal thoughts or acted on them

You have hurt yourself or thought about hurting yourself or someone else

You're in trouble or your life is in danger
Calmerry The Conclusion
Calmerry may be a good option if you're looking for affordable online therapy, whether you want the ability to message your therapist or you prefer live video sessions.
Finding affordable and accessible help from a mental health professional can be a difficult process. Calmerry offers to fill this void with its easy-to-use and most affordable platform for out of pocket (however, if you have insurance other options may be more affordable).
Unlike other competitors, which charge fees based on the availability of therapists in your state, Calmerry provides straightforward and transparent pricing for each online therapy plan, no matter where you live or what you are looking for in a therapist.
There are several benefits to Calmerry such as being able to vent about your problems as they arise with 24/7 messaging support. Additionally, Calmerry offers a practical way to get therapy sessions with a qualified mental health professional from the comfort of your own home.
Overall, the platform is fairly easy to use, offers counseling with qualified professionals, and allows you to switch therapists if you are not pleased with your match. They offer excellent customer support and highly responsive help for any concerns.
However, if you need ongoing financial aid, want to use insurance, or hope to use your HSA or FSA dollars, Calmerry may not be the right fit for you.
Final Verdict
I don't think this is a good long-term model for many therapy patients with severe disorders or really hard problems, but it can be helpful for anxiety, depression, and other common mental health problems. Best for quick talks, short interactions, goals, and getting more familiar with therapy.
Finally, our team would love to hear from you! Please leave a comment with your questions or suggestions as to what mental health product, software, or app Online Mental Health Reviews should buy and review next. If you have a discount or coupon code, please be sure to share below as well so everyone can benefit!
If You Are In Crisis:
Online counselling may be unsafe if you're in crisis. Texting therapy is not for life-threatening emergencies. 911 for emergencies. Including self-harm. Suicidal thoughts? Call the 9988 Suicide and Crisis Lifeline at 988. 24/7 support.
SAMHSA National Helpline 800-662-HELP (4357). The SAMHSA help line provides free, confidential, 24/7, 365-day-a-year treatment referral and information for mental and drug addiction disorders.